What riding and being a HOG member means to me.
Now that the new site is up and running, I figured now is as good a time as any to get rolling with the blog portion of the site and start off with "my story" as it were.
I started riding in 07 on my first bike, a 2007 Honda Shadow Aero 750, which was a fantastic (and affordable) bike, and customized the hell out of it over the 12 years I had it. Mostly I rode around town, though the Metroparks, and occasionally with my friends who rode. Mostly though, I rode solo. Over that time I racked up close to 30K miles (not a lot by any means), had a few mishaps, thankfully none of which were my fault, and experienced about all I could on that size of bike.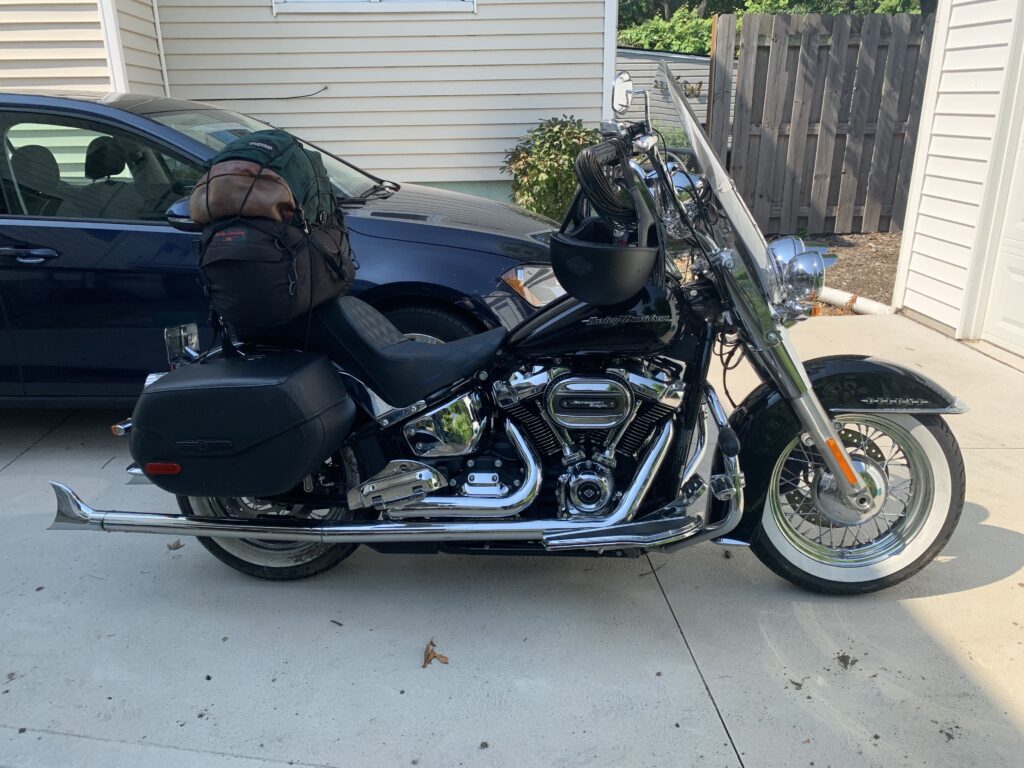 When I was finally in the position to move up to a bigger bike, I spent time deciding what to get. I knew it would be something domestic, either a Harley, or an Indian. I liked a variety of models from both, not only cruisers but baggers as well. One fine spring day in 2019, I found myself at Rock n Roll H-D, and in the showroom was a brand new Deluxe. It had always been my "someday" bike, I love the cruiser style. With the whitewall tires, tombstone taillight and miles of chrome, it is, to me, the perfect bike. One test ride later I knew this was the perfect fit.
Riding the Deluxe was fantastic. It handled amazingly at low speeds and was a dream to ride on the freeway. Of course I could not let it just look like a stock bike. And in the end I customized it to fit me perfectly. All this was great, but I was still riding on my own. Something was missing.
My friend Erik was a member of RnR City HOG and got me to come to a meeting in the winter of 2019/2020. Soon thereafter I joined. I took a little bit of time to get to know other people, but once riding season started, I got to know more and more people and was enjoying the rides. This is exactly the riding experience I was looking for, meeting people who shared the same love of riding, and soon would become good friends.
Not only have I made great friends here, riding with this group has helped me vastly improve my skills. Happily, in the few years I have been with HOG I have racked up just over 30K, a bit more that I did in the 12 years prior. I have ridden through much of Ohio on some amazing and challenging roads, been on some great over night and multi-night trips and well as an out-of-state rally. All the while sharing the road, and memories with a great group of people. As quite a few will attest to, if it's riding season, It is a very good chance I will be on the rides.
While the Deluxe will probably always be my favorite bike, I knew that sooner or later, with trips and distance riding I was doing, that I would need to upgrade what type of bike I rode. Early in the season this year, I found my upgrade. The dealership had jut got a 2019 midnight blue Street Glide with almost no miles on it (1719) to be exact. It was too good a deal to pass up, and so I said goodby to my Deluxe and started racking up the miles on my new bike. While I plan to add more to the bike, I love having the increased range, luggage capacity, GPS stereo, and handling that this bike has.
Being a part of HOG means a lot to me, serving as a Road Captain and as Webmaster for the group is a great privilege to have. And I look forward to the many more years of riding and friendships that HOG has to offer.
I look forward to people sharing their experiences, stories, or whatever riding related items you want to share. So please feel free to reach out to me through the HOG Pen, or email me at webmaster@rocknrollhog.com and send me what you will.
Thanks and rubber on the road and your knees in the breeze
Clint